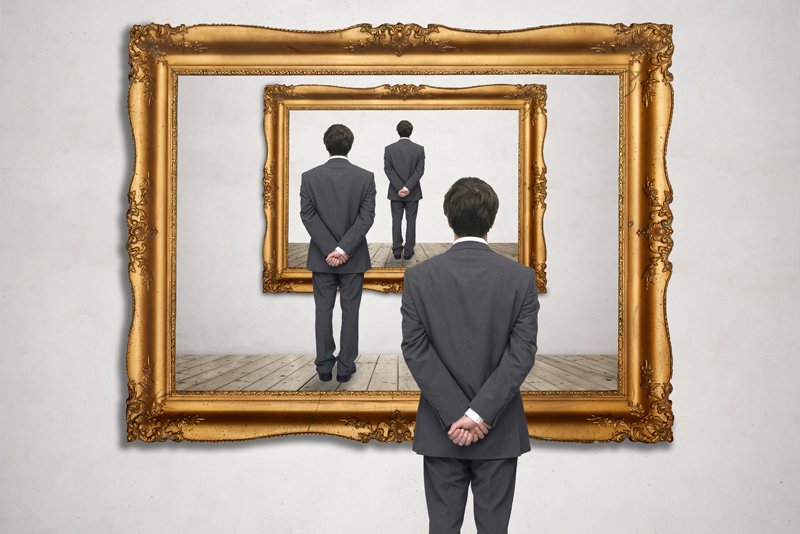 Portraits are a representation of one's face, by another or as a selfie. Later in the history of art, half and three-quarter length portraits were added. But when the artist peeps at the subject, well, that is another issue. I will explain.

If you have seen reliefs of ancient Egypt, the portraits are in profile and not particularly life-like or individualistic.

The frescoes of Pompeii are more realistic and coins from the Greek and Roman empire were crudely made but were meant to be reasonable facsimiles of the model.

At the end of the Middle Ages, in the 15th c, individual portraits were painted, although the artists' models' names were oddly left anonymous.

Early Netherlandish artist Robert Campin's "Portrait of a Young Woman" (1430-35), Roger van der Weyden's "Portrait of a Lady" (1460), and Jan van Eyck's "Portrait of a Man" (1433) are but a few examples.

During the Italian Renaissance profile portraits were popular from 1450-1500. Leonardo da Vinci's "Ginevra de' Benci" (1478-80) caused quite a stir at the time as it the first done in a three-quarter pose.

As a matter of reference, Leonardo's "Mona Lisa" (1503-06) was painted in half-length.

Perhaps the first self-portrait painting was by German Renaissance artist Albrecht Durer in 1500 at age 28.

Dutch Golden Age artist Rembrandt certainly claims the most self-portraits with forty or more paintings, thirty-one etchings, and seven sketches, scanning a forty-year career.

Baroque Spanish artist Diego Velazquez painted "Portrait of Innocent X" (1650) which would many centuries later be distorted by Irish-British artist Francis Bacon in 1953 with his "Screaming Pope."

English portrait painter Thomas Gainsborough's "Mr. and Mrs. Andrews" (1750) not only celebrates the couple's marriage, but he gives us an insight into "the lifestyles of the rich and famous."

American artist John Singer Sargent painted "The Daughters of Edward Boit" (1882), where the girls' personalities are captured on canvas. This painting can be seen at the Museum of Fine Arts (MFA), Boston, MA.

I think it's apparent that artists who painted portraits or self-portraits did so with intention, by staging the scene, studying, and positioning their models, making eye contact, and transferring that to paper or canvas.

However, when it appears that the artist is gazing from afar, the subject is caught off guard or unaware of being watched, well that's voyeurism.

If you remember Alfred Hitchcock's 1954 movie "Rear Window," didn't James Stewart and Grace Kelly watch the affairs of "Miss Lonelyhearts" (and others) thereby disregarding their privacy? But pray tell, what can people do when they live so close by?

In Amsterdam, it is common for residents to not want curtains on windows of the first floor, or they choose not to close them.

I think it's analogous to being a fish in a fishbowl. I experienced that feeling when staying at a Midtown Manhattan hotel in NYC. I thought "if I could see the construction worker on the roof, I could only imagine that he could look back!"

Rembrandt's 1654 painting "A Woman Bathing in a Stream" depicts a woman's very personal ritual.

French modernist painter Édouard Manet would seem to have the approval of his sitters in "Olympia" (1863), "The Luncheon on the Grass" (1863), "A Bar at the Folies Bergere" (1882) as some subjects make eye contact with us. However, such paintings by Manet are figments of his imagination.

The Impressionists were notorious for having the eye of a voyeur.

French Impressionist Edgar Degas painted "L'Absinthe" (1875-76), a bar scene with a woman fallen on hard times. It's almost too painful to watch.

American painter Mary Cassatt painted "In the Loge" aka "At the Opera" (1878), of a woman watching the performance with opera glasses. Perhaps the viewer/artist is watching the woman dressed in black through the same lens.

Pierre August Renoir loved to paint women at their daily ritual. His "Woman Bathing" (1915) and "Woman After a Bath" (1896) clearly goes further than Rembrandt's depiction.

The Polish-French modern artist Balthus paints "Therese" (1938) a provocative portrayal of a young adolescent girl. Hmm, is its theme meant as isolation or something else?

I think the answer is that ultimately, it depends on the viewer's perception of the artwork.



Related Articles
Editor's Picks Articles
Top Ten Articles
Previous Features
Site Map





Content copyright © 2023 by Camille Gizzarelli. All rights reserved.
This content was written by Camille Gizzarelli. If you wish to use this content in any manner, you need written permission. Contact Camille Gizzarelli for details.